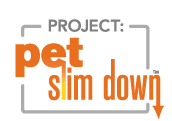 Pet owners and veterinarians across the country are joing the project: Pet Slim Down movement to do something about pet obesity. A healthy weight can mean a better defense against weight-related diseases and a longer, happier life. Project: Pet Slim Down is an easy-to-use approach from purina to help you succeed.
Project pet slimdown has 3 easy to follow steps.
1. FEED AND TREAT RESPONSIBLY. Follow veterinarians recommendations, Measure food with proper cups, and dont give into begging.
2. STAY ACTIVE. Increase playtime, increase leashed walks, and repeat sit and/or lay down several times before rewarding with treat.
3. PARTNER WITH VETERINARIAN AND CLINIC STAFF. Schedule weekly/monthly weigh-in's to stay on track.
To learn more about project pet slimdown visit www.projectpetslimdown.com.